The rules of disengagement
Goodbyes can be hard. How to end show floor conversations.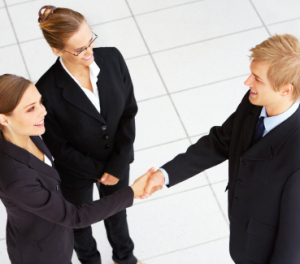 Managing your time with attendees is critical to any tradeshow or event. Be careful not to spend too much time with attendees after you have met your objective during high-traffic periods. When you do, it is possible that you are missing other opportunities if no one is available for engagement.
The key is to disengage once you have achieved the sales objectives of the conversation. Disengagement might also be necessary because you have determined the visitor is not a qualified prospect. Some attendees could easily chat your time away and you need to stay focused on the business at hand.
Remember not to appear unfriendly or unprofessional in your disengagement. Anyone visiting is still a colleague and others will be watching your interaction as well. Below are some tips you can use at your next tradeshow or event to help you disengage and maximize your conversations. Remember, these techniques do not come naturally. Practice them so you are ready when the need arises.
Appreciation and acknowledgement. Thank all visitors for stopping by your event or tradeshow and participating in your brand experience. "Thank you for stopping by today. I am happy we had the opportunity to speak."
Present the situation. Share with colleagues your challenges or a better time for them to come by for more lengthy conversations.
– To a fellow exhibitor: "This is a busy time for us in the exhibit, but I would like to speak with you about your ideas. I will have more un-interrupted time after the show to discuss this with you. Would you be free to meet for a coffee when the show closes?"
– To an attendee: "I would like to discuss your challenges in greater detail when we can sit down and map out some solutions and when I am interrupted less frequently. I also would like for us to meet where it is a little quieter and we can review items online. Can I call you next week when I am back at my desk to schedule a meeting?"
Call to Action. Before the disengagement concludes, set expectations and next steps. Both sides of the conversation should know when they will meet or speak again. "I look forward to speaking with you next week. I will call you at your office on Monday.