5 Steps to Effectively Qualifying Leads for Your Sales Team
Lead count and quality are often the primary metrics used to gauge the effectiveness of an exhibit or events program. Make sure you're asking the right questions to qualify leads that your sales team will be eager to start a conversation with.
Qualifying is used to determine whether or not a potential prospect is a good fit for your company's products or services. Why is qualifying important? Because qualified sales leads have a higher return on investment and higher close rate.
Two common event marketing models used to qualify leads are CHAMP and BANT:
CHAMP = challenges, authority, money, and prioritization
BANT = budget, authority, needs, and timeline 
Talk to key sales reps at your company and ask what questions they use to determine if a prospect is qualified for further follow up. Listen closely to what the sales reps say and how they make this determination. These questions are likely the foundation of your lead qualification.
Draft a list of potential questions (and answers), prioritize them and then analyze the list to see if any CHAMP or BANT elements are missing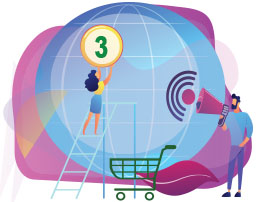 Review the questions and their sequence with key sales reps to ensure nothing's missing. Keep it to 5-6 questions tops. Remember, your goal is not to write a report about each lead...just to gather important information that allows the sales team to identify quality leads and cull out the tire kickers.
Do a trial run of your qualifying questions both with a salesperson on your team as well as with an existing client or two willing to share their time and insight. Are the questions in the right sequence to build a comfortable conversation while gathering information or is the sequence awkward and jumps around too much to facilitate a great conversation?
Consider the best way to gather this information so that you can easily sort through the data, rank leads and share them with your sales team after the event. There are hundreds of low-priced apps or free programs you can use to capture lead data on a trade show floor. Arm your staff or Brand Ambassadors with iPads to scan badges and qualify away!
Contact Exhibitors Connection today to find out how Brand Ambassadors can help you effectively gather and qualify leads at your next event or trade show.
Exhibitors Connection specializes in creating an on-site, event team of Brand Ambassadors that will best represent your brand, your company and be a natural extension of your team. Let us know if we can help you pick the right event support team for your next event, 1-773-631-9465.