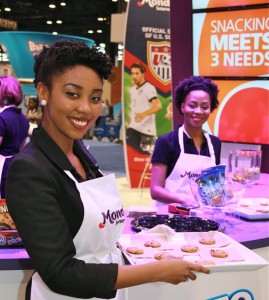 Instead of just displaying your product, create a lasting impression!
Instead of just displaying your product, create a lasting impression!
As you build your trade show exhibit, you will focus on locations to display your products to attendees. But when the show starts, you need to make sure your presentation doesn't leave your products on the shelf collecting dust. The best way to create a lasting impression with your target audience, and ultimately, a relationship with your brand is to create an experience with your product.
Take your products off the shelf and put them into the hands of the attendees like this:
Product demonstrations, whether scripted with a presenter or with individual team members, allow attendees to learn more about the workings of the product.
Put your product to work in a live demonstration in the exhibit, even if it is miniature in scale.
A theater presentation can draw a crowd and reach a larger group all at once
If appropriate, consider sampling your products. This could be in-booth or takeaways.
If you have a large product line, display smaller samples to reduce congestion. Review attendees' interest and focus on products pertinent to their identified needs.
Whether the show is launching new products or supporting a large number of lines, make sure your team is trained and able to speak on all products in the exhibit.
Consider Exhibitors Connection as your on-site tech, marketing or event team.  We specialize in providing individuals that will be a natural extension of your brand, your company and represent you in an outgoing, professional manner.  Let us know if we can provide you with the right team for an upcoming event or tradeshow, 773.631.9465.