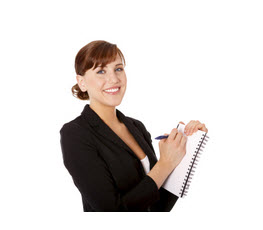 End-of-Year Preparedness
The end of the year usually means fewer trade shows on the calendar. In between catching your breath from a crazy fall and gearing up for the spring sprint, take a few days to strategize for 2014. It will pay off all year long.
Too often, companies do only what they did last year or plan for trade shows when deadlines are fast approaching. Instead, consider using your December lull to develop at least one of these long-term strategies that integrate with the rest of your company's objectives for the year.
1. Why do you attend trade shows? Evaluate how trade shows have helped your marketing and sales teams in the past. Why are they a component in the overall marketing plan? Are they an opportunity to meet with current customers? Capture new leads? Bring new products to market? Develop and put into words a clear purpose for why you exhibit at trade shows. Evaluate each show and activity you participate in against that purpose. For example, if your purpose is to capture new leads and you are hosting numerous current client receptions and dinners … it is time to re-purpose these into prospecting functions.
2. Review your show lineup. This is a hard one, but essential to making sure you are getting the most out of your trade show dollar. Review 2013 and 2012 to determine show response and ROI. Ask your sales team about some of the big deals they closed this year. Then, ask them what shows those prospects-turned-clients attended. Look at your lead capture numbers vs. sales if available. Determine if you should make any changes to your line up. Use this time to research potential new shows. While you may not be able to add to your budget this year, consider attending to check it out. Doing this step will leave you much better prepared for re-sign in 2014.
3. Review your communications collateral. Before a show are you boxing up existing brochures and press kits to use on site, but wishing you had new materials? Analyze your print materials. Do they still represent your brand and product/service lines? Are they accurate? Take stock. How many should you print for your 2014 trade show program?
4. Refine your communications program. Review how you are communicating with attendees and prospects before the show, at the show, after the show and in-between shows. Are you keeping up communications and developing the relationship? Are some communications working better than others? Have you considered incorporating new communication tools to reach prospects? Take time to review each show's sponsorship manuals to get new ideas. Consider a measurement program in 2014, if you don't already have one, to determine what influences your audience the most.
5. Train your sales team. Maybe your sales team is not available or in the frame of mind for a training session. You can use this time to prepare an exhibit training manual to hand out before each show in 2014 or prepare an online training presentation that you can use for pre-show training weeks in advance of each show.
There are some great tips on Exhibitors Connection's website, click here.
Consider Exhibitors Connection as your on-site marketing team.  We specialize in creating a team that will be a natural extension of your brand, your company and represent you in an outgoing, professional manner.  Let us know if we can provide you with the right team to help draw attendees into your event or exhibit space, 773.631.9465.